Wisdom Begins With You, right?
Welcome to Web Wise Kids! For more than ten years, we have been providing unique and effective resources to equip young people to safely use and enjoy the latest technologies. Our programs prepare kids to be their own first lines of defense so they can confidently explore the best that the Internet has to offer. To date, more than 10 million middle school and high school students from all 50 states have participated in our programs.
The Web Wise Kids mission is to teach kids, parents and the community the value of making safe and wise choices in a technologically evolving world. We do this by creating and distributing interactive content through the same media in which kids and adults live their lives.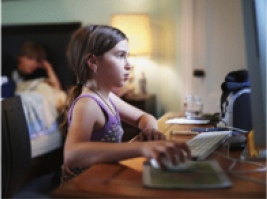 Web Wise Kids is a national 501(c)3 nonprofit organization based in Southern California with satellite offices in the Northwest and Washington, D.C. Our mission is to empower today's youth to make wise choices online. Since 2000, Web Wise Kids has been a leader in preventing online child victimization by providing innovative and effective tools to assist young people to flourish in a world of media and technology. Web Wise Kids is honored to be a part of the Federal government's Project Safe Childhood initiative.
Our programs assist youth to confidently manage issues like sexting, bullying, piracy, fraud, online romances, cyber stalking, and other online hazards. We take a "hands-on, minds-on" approach to education by offering challenging and realistic digital games that have been specially designed to assist young people to evaluate their online activities and experiences, and take appropriate actions to stay safe online. Simulations that demonstrate the importance of digital citizenship and allow students the opportunity to witness the consequences of poor online choices are an integral component of all our programs.
Computer games have proven to be one of the most effective methods of reaching youth. With the release of our flagship program "MISSING," our organization established itself as the respected forerunner in the use of games as a means to educate young people on this issue. Did you know that youth readily embrace games because…
Games are fun – they bring us enjoyment and pleasure

Games are engaging – they give us intense and passionate involvement

Games have rules – they give us structure

Games have goals – they give us motivation

Games are adaptive – they give us control

Games have outcomes and feedback – they give us learning

Games have conflict and challenge – they give us adrenaline

Games have interaction – they give us social connections

Games have conclusions – they give us ego gratification and self confidence

Games are interactive – they let us do and not watch

Games have characters and story – they touch our emotions. (Marc Prensky. Computer Games and Learning: Digital Game Based Learning. 2007)
We have found that the best way for us to reach today's digital generation is by partnering with people just like you who hold trustworthy positions among youth: educators, law enforcement officers, parents, and community leaders.  Together we form a strong grassroots network of informed and caring adults seeking to empower youth to be safe and responsible digital citizens. We even have a special learning program sponsored in part by the Office of Justice (United States Department of Justice) and designed just for Parents called Wired With Wisdom®.
No matter what your role in working with youth, we know you will appreciate our flexible, easy to use programs. Best of all, after completing our programs, the students you care about will be able to use the Internet with a lot less risk and a lot more enjoyment. 
"Web Wise Kids" and "Wired With Wisdom" are federally registered trademarks of Web Wise Kids, Inc; Reg. Nos. 2577829 and 3282058, respectively.