It's Your Call
Sexting... cyberbullying... academic cheating...
The Web Wise Kids cell phone safety program for middle school children is titled It's Your Call. Based on true stories, it is an interactive game that allows users to play out difficult situations in the safety of cyberspace before they live them out in real life.

The game offers teens guidance about responsible cell phone behaviors and how to use these devices to enhance their personal safety. Players become a live action character in an interactive movie and are presented with a series of difficult decisions in a slice-of-life context. The teens must make tough decisions and view the consequences of their actions in the video. Regardless of the outcome in the game, players learn important lessons about cell phone and Internet safety.
Purchasing Options:
It's Your Call is an online game which requires a yearly subscription. The cost to use It's Your Call is $50 per year for the teacher plus $0.50 for each student. You will purchase the licenses directly through the game developer Will Interactive via the link above which will route you to their website.
Teacher's License: $50.00 (must purchase teacher's license)
Student's License: $0.50 per student. The students can log on as many times as they like, using school or home computers. This is a great way to assign the game as homework and to encourage the involvement of parents at home. You may purchase as many Student Licenses as you need.
Total Cost: $50.00 plus $0.50 per student
Parents may also purchase a license to use It's Your Call for one year. The cost is $50 for the parent and no charge for the child/children. Follow the instructions contained in the link above to purchase one Teacher license and no student licenses.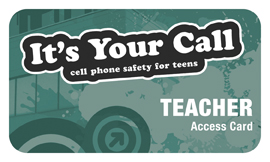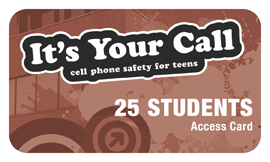 Read More:
It's Your Call- Overview and Guidelines
It's Your Call- Cell Safety for Parents
It's Your Call - Cell Safety for Teens