MISSING
MISSING tells the story of Zack, a kid in Vancouver, Canada who forms an online friendship with an online friend named Fantasma. This guy is so cool - he has an online magazine about beach life in California and he sends Zack great stuff to help him design his own computerized animations. Little does Zack know that Fantasma is a predator. After Zach leaves home for San Diego, California to be with Fantasma, players work with a detective to find and rescue Zack and arrest Fantasma.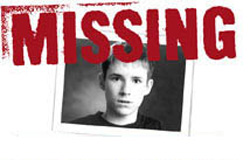 MISSING is our longest program and provides an introduction to Internet safety to middle school ages and up. It is comprised of six sections that must be completed sequentially in approximately one week's time. It is perfect to use if you are hosting an Internet safety week with students.
Like our other programs, MISSING is research based and compliant with school standards and ISTE standards.
Click here to read Testimonials from people who have used MISSING.