Candles for a Cause Launches a Special Scent for Web Wise Kids
Web Wise Kids is a non-profit that promotes Internet and cell phone safety for children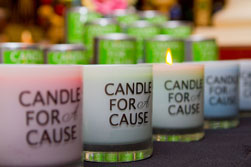 Santa Ana, CA – October 19, 2011 – Web Wise Kids, a national non-profit organization CANDLE FOR A CAUSE and recognized leader in Internet safety education, announces its partnership with CANDLE FOR A CAUSE, a candle company committed to helping non-profit organizations. Web Wise Kids is one of six charities supported by CANDLE FOR A CAUSE, which will donate $2 of each Web Wise Kids specialty scented candle sold.
"We are grateful to be selected by CANDLE FOR A CAUSE as one of their charities. As more children use technology devices to communicate and explore, it's especially important for parents, educators and influencers to teach safety," says Judi Westberg Warren, President of Web Wise Kids. "Together, with sponsors and partners like CANDLE FOR A CAUSE, we can spread our message further to help kids make wise choices in the digital world."

"We are happy to help such an important organization," adds Vickie Wagner, Owner of CANDLE FOR A CAUSE. "As a former school teacher for 19 years, it is important to provide children with the tools that speak to them, to allow them to learn and grow in a way that we can make a profound difference in their lives. Web Wise Kids gives children valuable and life changing educational tools against cyber bullying, sexting, predators and more. These are imperative issues to educate our youth about."
Joint owner of CANDLE FOR A CAUSE Victoria Andahazy adds, "With technology moving so fast, kids-- and adults-- glued to their cell phones, laptops, and mobile devices, we want our candles to help raise awareness about Web Wise Kids and provide an opportunity for everyone to support the organization-- while also enjoying a relaxing scent. We are thrilled to be connected to Web Wise Kids."
CANDLE FOR A CAUSE produces their products in the USA and are $38.00. The 11oz soy-based candles custom developed for Web Wise Kids can be purchased. Web Wise Kids' candle carries the fragrance of orange, coconut and gardenia.
# # #
About Web Wise Kids:
Web Wise Kids (WWK) is a national non-profit organization, "Dedicated to promoting a culture of safety, respect and responsibility for youth and families in this digital world." WWK does this by creating and distributing interactive content through the same media in which kids and adults live their lives. WWK programs have reached over 10 million youth and thousands of parents nationwide. For more information on Web Wise Kids or to make a donation, visit http://www.webwisekids.org/donate. Follow Web Wise Kids on Twitter at @webwisekids, Facebook at http://www.facebook.com/webwisekids or YouTube at http://www.youtube.com/webwisekids.

About CANDLE FOR A CAUSE:
WHO SAID A CANDLE IS JUST A CANDLE.
Victoria Andahazy, and Vickie Wagner are excited to announce, CANDLE FOR A CAUSE (CFAC). Buy a candle and you give back to the charity on the candle. It's that easy! The goal is to create a product that everyone can use or gift, and the donation is included in the purchase. Through this, CFAC hopes to give back with the shared mission to make the world a better place. There are six fragrances and six charities, all chosen because of the passion and kindness they share. The organizations include: Every Mother Counts, the Environment, Helping Orphans WorldWide, Much Love, Wild Horses and Web Wise Kids. Follow CANDLE FOR A CAUSE at @candleforacause.blogspot.com.